Best time slots to reserve a safari
Three best time slots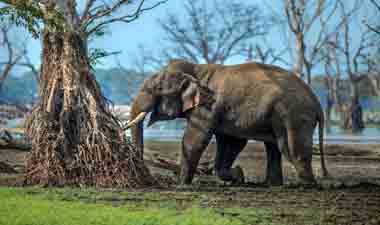 MORNING GAME DRIVE
Game Drive starts at 6 AM and will end's at 10.00 am, you will be picked up from your hotel in the national park area at 5.15 am.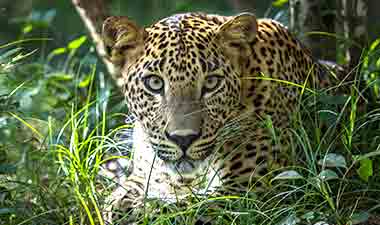 AFTERNOON GAME DRIVE
Game Drive starts at 2 pm and will end's at 6.00 pm, you will be picked up from your hotel in the national park area at 1.15 pm.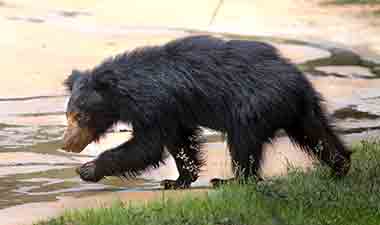 FULL DAY GAME DRIVE
Game Drive starts at 6 AM and will end's at 6.00 pm, you will be picked up from your hotel in the national park area at 5.15 am.
Book a Game Drive in popular national parks in Sri Lanka
Jeep tours in Lesser-known National Parks In Sri Lanka
sri lanka big 5 animals

1: The blue whale
2: The sperm whale
3: The srilankan leopard
4: The srilankan elephant
5: The srilankan sloth bear
In Sri Lanka, the big five game animals are Elephant, leopard, sloth bear, The blue whale and the sperm whale. The term "big five games" refers to the big five most intimidating animals that can be easily spotted on most of Sri Lankan National parks and Indian ocean. Animal and wildlife lovers around the world, travel here to witness the amazing wildlife. Mostly because you can do a game drive with less effort and cost when compared to African Safaris.
Important facts about Wildlife Safaris in Sri Lanka
When is the best time to do a safari tour
The best time depends on the National park you are going to select. for example February to July is the best time to visit Yala National park, but in general, Yala is a year-round destination except drought (September to October) weather patterns subject to change.
The best time to visit Wilpattu is from February to October. Willpattu is also good to visit all around the year.
The best time to visit Minnariya is from September to November.
Udawalawe park is good to go all around the year. Contact us for more info.
What are the best national parks in the island for wildlife tour
Most popular national parks are Yala, Wilpattu, Udawalawe and Minneriya national parks
What is the entrance ticket price?.
Entrance ticket price will start from USD 27 per-adult. Contact us for more info. Or you can check our national park page, for ticket price and jeep fee.
Best place to book a Wildlife tour
You can book an all-inclusive, hassle-free wildlife tour with us
Sri Lankan Safaris
By- Zanita Careem-Features editor Last Update on - 09th Feb 2020
Things you need to know about Safaris, beforehand.
Sri Lanka is a must-visit Safari destination in the world. A small island nation filled with hundreds of endemic species is a big draw to do a safari. The best way to have a wildlife encounter is to take a Safari Game Drive in a National park in Sri Lanka. Below you can find some of the most valuable information that nobody tells beforehand. I am sure this will clear any doubt you having what to expect on the tour itself.
It is definitely a bumpy ride.
Well, This is wilderness, so do not expect a comfortable ride like you are on an expressway, jeeps have comfortable seats with local standard and have pretty good suspensions, however, they can't absorb a sudden jerk as a high-performance vehicles handle shocks.
So hold on to something and do not forget to have a good grip to your camera, unless you want it to fly away into the wilderness.
If you are on a wildlife photography tour, let Go4safri know about it beforehand. They will make arrangement for that.
Just by sitting in the front row will reduce the shocks by a great extent, and the last row will have the exact opposite reaction. Last row is directly over the wheels so you will experience lots of bouncing effects. teenagers might like it.
While you are on a narrow trail watch-out for tree branches, most comes with thorns.
What to wear during the Safari.
It's not like Man vs Wild appeared in Discovery channel, you are not crawling through mud with elephants, anyway, you are not allowed to step outside of the vehicle, in most locations, unless your park ranger permits to do so, it's park rules.
However, your clothes, hair, face might get dusty, If you prefer to stay clean no matter what, do not forget to bring a wet wipe to clean off your face.
Big picture about what you can wear, is, you can wear whatever you want, consider the blazing sun when you select your clothes.
You may get sun sunburn.
Do not forget to have a sunscreen or shades. Locals can endure the heat, but not for you. most of the vehicles (jeeps) have a roof, but the sun won't stay on top, most of the time.
Other important things that you should know about.
If you want to take a photographs coordinate with your driver for stopping the vehicle while it is moving or you want to get in to a perfect spot for your photograph, Put your camera on sport mode and keep it ready at all times, you don't know when you will encounter amazing wildlife in its natural habitat.
You will have bathroom breaks when you have your picnic breakfast and picnic lunch, if you need any additional bathroom breaks just tell the driver, but it will disrupt the Game-Drive so only drink adequate liquids.
One more thing, you will not be the only vehicle doing the tour, popular national parks have more jeeps, having the same goal as you, so you have to take it easy about the traffic jam, for the sake of country's incredible wildlife, you are about to witness.
Enjoy thrill seeking wildlife tours presented by Go4Safari that lets you experience the majestic attraction of nature while resting your eyes on the wilder living beings in the world of fauna and flora.'Our wildlife tours are probably the most comprehensive and nature expedition in Ceylon said Sameera Gamage.
Srilanka's wildlife tours are popular all over the world. From leopard safaris in Yala National Park to walking wildlife tours in the highlands of Horton Planes National Park, the experiences will always be etched in your mind – Enjoy ! – The world best destination for rich wildlife tours. Book early and enjoy your tour.