Embark on an Enchanting Safari Adventure at Udawalawe Safari Camp!
If you're a nature enthusiast with a soft spot for elephants, the Udawalawe Safari Camp is an idyllic haven in Sri Lanka, offering an escape from the hustle and bustle of everyday life. Immerse yourself in tantalizing authentic foods, breathtaking wildlife, serene natural surroundings, and luxurious accommodations - all in one unforgettable experience.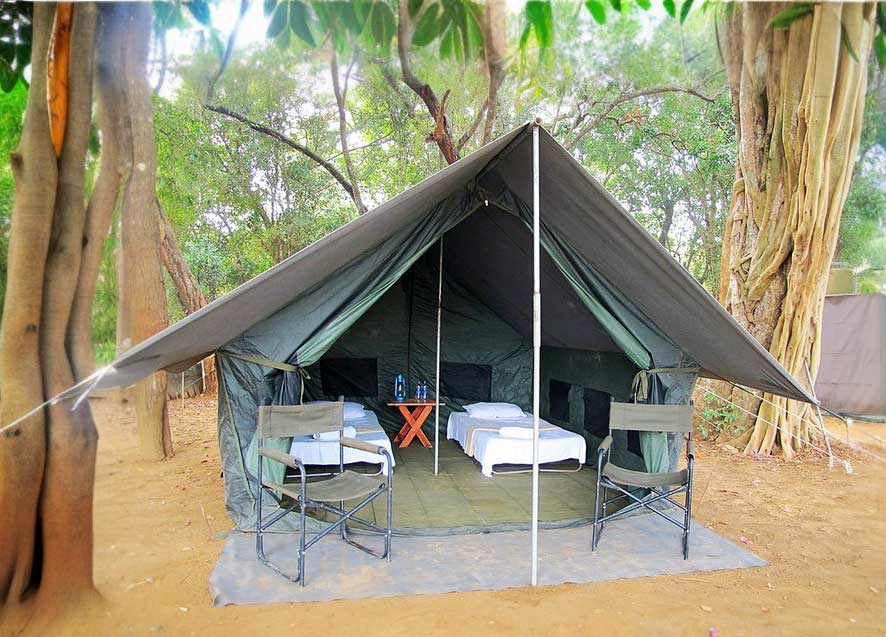 Starry Nights and Serenity Await
Spending a night at the Udawalawe campsite beneath the starry skies is a dream come true for any nature lover. The spectacle of the Milky Way galaxy sprawled above you is bound to leave you awe-struck. Surrounded by the soothing sounds of nature - distant wolf roars, peacock calls, and owl hoots - you'll drift off into a deep slumber, feeling as content as a peaceful baby.
A Culinary Journey by Candlelight
Indulge in a delectable candlelight dinner beneath the enchanting canopy, illuminated by hurricane lanterns and a crackling bonfire. Wrapped in a cozy blanket, you'll be entranced by the dancing sparks and glowing embers, as they work their magic and warm your soul.
Mornings of Bliss and Adventure Awaits
Awake to the melodious symphony of birdsong, greeted by the gentle rays of the morning sun and a cool breeze that sends delightful goosebumps. The smell of dewy grass in the humid air will leave you in a state of euphoria, ready to embark on an early morning safari with a delightful picnic breakfast freshly prepared at the camp kitchen.
A Magical Safari Haven
Prepare to be enchanted by the Udawalawe Safari's breathtaking wildlife wonders. Enter a little paradise nestled within a paradise, where elephants roam freely alongside an array of captivating creatures. Witness Howler monkeys leaping through the treetops and Peacocks flaunting their iridescent wonders, leaving you with unforgettable memories etched in your heart.
A Harmonious Blend of Luxury and Nature
Escape the crowd and reconnect with nature in this once-in-a-lifetime opportunity. The magnificent man-made reservoir creates a mesmerizing landscape and serves as a vital habitat for water birds. This wildlife camping adventure blends nature's embrace with comfortable accommodations tailored to your taste and style, giving you the best of both worlds.