"Wilpattu Safari Camping: Unleash Your Adventurous Spirit! 🏕️🦁 Book Now for Luxury in the Wild. #WilpattuSafari #NatureAdventure"
Wilpattu Safari Camp: Where Wilderness Meets Luxury Immerse yourself in nature with stylish tents, en-suite bathrooms, and private decks. Experience the serenity of the jungle under the stars, surrounded by wildlife and the soothing sounds of the wilderness. Connect with nature and embark on thrilling Safari Game Drives with our expert naturalists.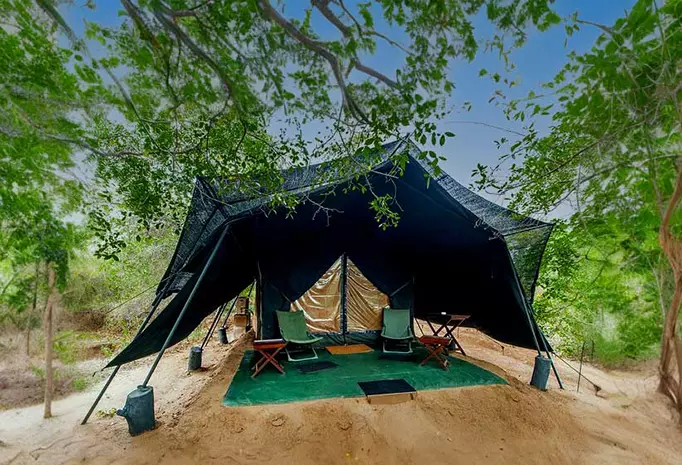 Under the Stars: Unforgettable Wilpattu Nights 🌌🦁
Unforgettable Nights under the Wilpattu Sky Embrace the magic of the night, with stars overhead and distant animal roars. The jungle's soundtrack and crickets' chirruping create an extraordinary atmosphere. Wake up to the gentle glow of the morning sun and the melody of birdsong. Wilpattu offers a true connection with nature like no other.
Taste of the Jungle: Dining in Wilpattu 🍛🔥
Culinary Delights in the Heart of the Jungle Indulge in homegrown vegetables and authentic Sri Lankan meals freshly prepared by our camp kitchen. Savor a platter of fresh fruits and enjoy a hot cup of tea/coffee or refreshing fruit juice. As the evening sets in, relish a BBQ dinner by the campfire, while listening to fascinating folklore tales.
Ancient Wonders & Wildlife: Wilpattu Adventure ⛺🦚
Wilpattu Safari Camping: An Adventure with Ancient Wonders Combine your safari experience with visits to ancient cities, Sigiriya, and Minneriya. Discover the best of Sri Lanka's wildlife and history in one incredible journey. Wilpattu National Park offers scenic beauty, diverse animal species, and a less crowded, unforgettable adventure.